Electronic Reading Room
GLS Electronic Reading Room:
A Guide for Finding and Requesting Seaway Records
The Freedom of Information Act (FOIA) and the Privacy Act (PA) grant individuals the right to access many government records about how the government operates.
Under FOIA, any person has the right to a copy of certain records possessed by the government's executive offices, agencies, corporations, administrations, commissions, boards and services. However, some records (e.g. sensitive, personal, commercial, and governmental) are protected from disclosure.
Under the PA, if the GLS files information about an individual under his/her name, or any other means that identifies that individual (e.g. social security number), that individual has certain rights, including:
to see the information
to keep other people from seeing it
to correct it if it is wrong.
To file a request for information, please contact the GLS at its Massena, N.Y. offices:
Great Lakes St. Lawrence Seaway Development Corporation
P.O. Box 520
180 Andrews Street
Massena, NY 13662-0520
Phone: 315-764-3200
Fax: 315-764-3235
Email: GLS@dot.gov
The request should include a summary of the information requested, must be in writing, and should be identified as either a FOIA or a PA request. Providing the GLS with as much detail as possible about the records sought and with either a return email address and/or a phone number allows the GLS to respond in a timely and sufficient manner. Some fees may be required, and all requestors should state the maximum amount he/she is willing to pay as advance authorization. Obtaining sensitive, personal, commercial, and governmental records may be protected from disclosure.
Upon receipt of your request, the GLS will:
Acknowledge the request promptly
Contact the requestor by phone or in writing to clarify any uncertainties in the request
Search all offices likely to have documents, review documents for release, coordinate with internal and external sources, and response as soon as possible
Notify the requestor of projected costs over $.00 before incurring expenses
Provide clear, detailed responses to every request, including an explanation of fees, exemptions, and administrative appeal rights
Ensure that any submitted appear is reviewed independent of the initial decision
Ensure that any final decision is approved by the GLS Chief Counsel
Electronic Reading Room
In accordance with 5 USC 552(a)(2), the following 4 categories of records ("reading room records") are publicly available without the need for a FOIA request:
Category 1: Final Opinions/Orders in Adjudicated Cases
Final opinions, including concurring and dissenting opinions, as well as orders, made in the adjudication of administrative cases:
Category 2: Specific Agency Policy Statements
Statements of policy and interpretations which have been adopted by the agency and are not published in the Federal Register:
Category 3: Staff Manuals and Instructions to Staff Affecting the Public
Administrative staff manuals and instructions to staff that affect a member of the public:
Category 4: Frequently Requested Records
Copies of all records, regardless of form or format, which have been released to any person under FOIA and which, because of the nature of their subject matter, the agency determines have become or are likely to become the subject of subsequent requests for substantially the same records:
GLS Credit Card Holders for Procurement Use:
Contracting Officer, Contract Specialist, Purchasing Agent, and/or Chief of Facility Maintenance Branch
Great Lakes St. Lawrence Seaway Development Corporation
P.O. Box 520
Massena, NY 13662-0520
Phone: 315-764-3200
 
FY 2019 GLS FOIA Log (through 8/16/19)
*Personal privacy information has been redacted based on FOIA Exemption 6.
Note: Only Reading Room records created on/after November 1, 1996 are required to be made available electronically. Other Reading Room records maintained by the GLS can be accessed from the following:
DOT Dockets Office
1200 New Jersey Avenue SE
Room W12-140
Washington, DC 20590
Phone: 202-366-9322 // 202-366-9826 // 800-647-5527
Computer terminal and printer equipment available for accessing Reading Room Records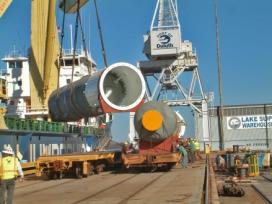 Last updated: Wednesday, September 8, 2021