Seaway Infrastructure Program Reports
Starting in 2009, the GLS began its Seaway Infrastructure Program (SIP) for its navigation infrastructure and associated facilities and equipment.  The projects and equipment included in the SIP address various needs for the two U.S. Seaway locks, the Seaway International Bridge, maintenance dredging, operational systems, and Corporation facilities and equipment in Massena, N.Y.  None of the SIP investments result in increases to the authorized depth or width of the navigation channel or to the size of the two locks.
Through the first 10 years of SIP funding (FYs 2009-2018), the GLS has spent $152 million on 50 separate projects. These projects included maintenance dredging in the U.S. portion of the Seaway navigation channel, lock culvert valve machinery upgrade to hydraulic operation, structural rehabilitation and corrosion prevention work on the Seaway International Bridge, gatelifter upgrades, and miter gate rehabilitation, as well as various other structural and equipment repairs and/or replacement.
For the FY 2019-2023 period, the SIP/Capital Investment Plan (CIP) includes 58 separate ARP projects and equipment estimated at $83.7 million with total funding for each year of the plan constrained to funding targets for those years as approved by the Secretary and subject to annual appropriations. It is important to note that dollar amounts for SIP projects are "project feasibility" estimates that can vary by an industry-recognized standard of 20-30 percent.  Project estimates and schedules may fluctuate at various points in the lifespan of the SIP and will be revised as needed and on a continuing basis throughout the length of the SIP.
Click here to read the latest version of the U.S. St. Lawrence Seaway Infrastructure Program (SIP) Capital Investment Plan for Fiscal Years 2019-2023.
Available SIP reports to the U.S. Congress include: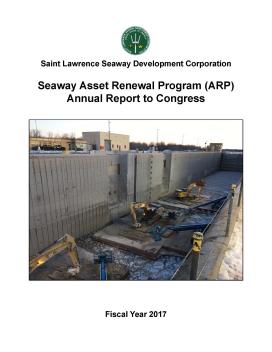 Last updated: Wednesday, September 8, 2021