Press Release - St. Lawrence Seaway Begins Navigation Season, Celebrates 60th Anniversary
Friday, March 29, 2019
WASHINGTON – Today, the U.S. Saint Lawrence Seaway Development Corporation (SLSDC) joined with its binational partner, the Canadian St. Lawrence Seaway Management Corporation (SLSMC), to mark the opening of the Seaway's 2019 navigation season.  2019 marks the 60th anniversary of the opening of the St. Lawrence Seaway.  
"The Great Lakes St. Lawrence Seaway System is a vital maritime transportation system and a driver of economic development and job creation in the region," said U.S. Secretary of Transportation Elaine L. Chao. 
Today's opening ceremony of the binational waterway took place at St. Lambert Lock in Montreal, Canada.  Canadian Transport Minister Marc Garneau, U.S. Department of Transportation Assistant Secretary Joel Szabat, SLSDC Deputy Administrator Craig H. Middlebrook, and SLSMC President/CEO Terence Bowles all addressed the gathering.
"As the binational waterway turns 60, it is resilient and ready for the future," said SLSDC Deputy Administrator Craig H. Middlebrook.  "New technologies, an exceptional reliability record, and significant investments in infrastructure are enhancing efficiencies and keeping the Seaway safe and competitive."
In 1959, the St. Lawrence Seaway opened North America's heartland to global markets.  Since 1959, nearly three billion tons of cargo with an estimated value of over $450 billion has moved through the St. Lawrence Seaway to and from Canada, and nearly 50 other nations.  In addition to being hailed as an engineering marvel essential to international trade and transportation, the waterway has long been recognized as a model of international cooperation between Canada and the United States.  Her Majesty Queen Elizabeth II and President Dwight D. Eisenhower attended the Seaway opening in 1959.
More than 237,000 jobs and $35 billion in economic activity are supported by movement of various cargoes on the Great Lakes St. Lawrence Seaway System. 
Direct link to Saint Lawrence Seaway First Vessel in the Lock video.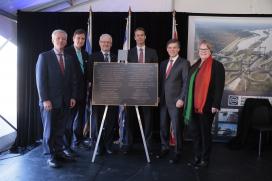 From left to right: Craig Middlebrook, Deputy Administrator, U.S. Saint
Lawrence Seaway Development Corporation; Joel Szabat, Assistant
Secretary for Aviation and International Affairs, U.S. Department of
Transportation; Marc Garneau, Canadian Minister of Transport; Paul Pathy,
President and CEO, Fednav; Terence Bowles, President and CEO, The St.
Lawrence Seaway Management Corporation; and Chantal Rouleau, Quebec
Minister of Transport, at the opening of the St. Lawrence Seaway's 2019
navigation season. March 26, 2019. St. Lambert Lock, Montreal.
Photo Credit: Chamber of Marine Commerce